Need to register for a SkipThePaper account?
Register for SkipThePaper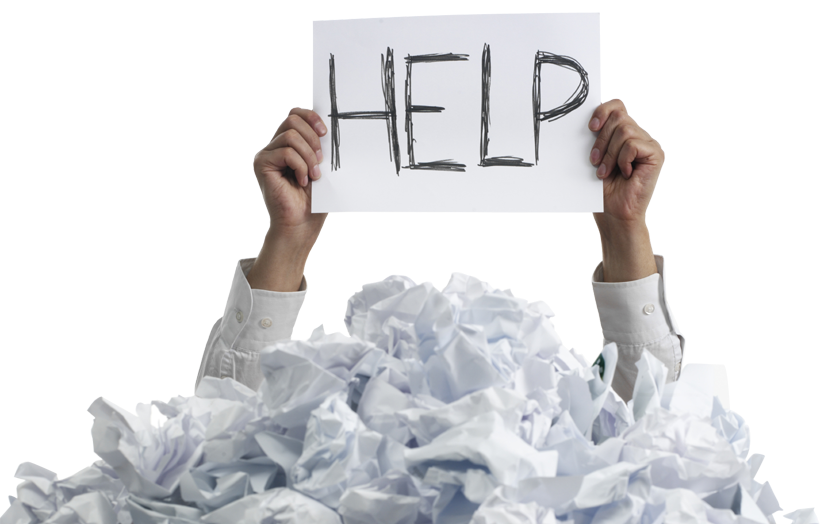 Do you already have your SkipThePaper account?
SkipThePaper Log In
Need to go online with your application processes to better server your clients?
SkipThePaper is a robust form tool that we've designed with you in mind. Most Agencies, Clubs and Associations want to have their forms online for easy access for their customers. We have turned that expensive process into a quick, easy and fun experience for you with SkipThePaper. Our Form-Builder allows us to take your paper forms and quickly convert them to an Internet Form that you can embed right into your web site.
What Clients say?
More Efficient! Using my laptop in the field, I'm able to access OnlineRME through the Web and do my reporting in real time more accurately and in a timely way, eliminating many hours of the office time we used to spend. I also have access to other information I need, as I need it, when I need it. I'm becoming increasingly more efficient.
Sustainable! We're currently tracking over 31,000 onsite sewage systems with only four people. I tell other regulators, 'OnlineRME is the best business decision we've ever made.' Everything is online, so we're more efficient. We get better reports and we identify critical deficiencies within three days, so we're protecting public health. And it's sustainable, less paper, fewer files - we're saving trees!
Core features of SkipThePaper
We provide a wide array of Usable & Flexible Features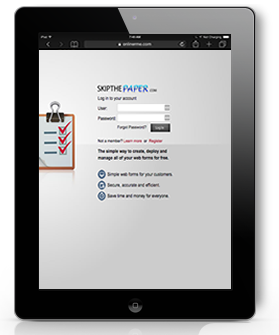 Quick Deployement
Forms and applications can quickly be deployed to the interbnet for your applicants.
Fee Collection
Collect fees for applications received, directing the funds to your bank account.
Workflow Managment
Review and complete applications producing a final product that the applicant and other contacts recieve instantly.
Custom Look and Feel
Customize the look, style and feel of each form for your agency.
No Limits!
There are no limits to the types of forms and applications that may be createed!
Temporary Food Event Permits
Cottage Food Licensing
Land Use Pre-Application
Association Memberships
Air Quality / Burn Permits
Tattoo Facility Licensing
Well Decommissioning
Septic Permits
Time of Sale Septic System Inspections
Your options are UNLIMITED!
Data Intagration
OnlineRME's database experts will work with your IT department to determine the best method of integrating data.
There are four methods of integration:
No interaction: OnlineRME can be used as a completely stand-alone reporting tool with no electronic interaction or communication with any other databases. Service providers enter reports into OnlineRME, and your personnel review the reports and act on them. You can export your data anytime you desire so that you can retain backups.

Indirect interaction via export/import: If your database is not accessible to the Web because of lack of resources or security concerns, you may use the vast number of OnlineRME exports, which can then be imported into your database.

Web-services: Web services may be utilized to interact between various data systems.

Remote server interaction: OnlineRME maintains a remote server to enable data uploads and downloads of property and report data. If you are interested in maintaining the key data from submitted reports on your server, we will provide the ability to download that data. Most management entities have this process automated to download report data each evening.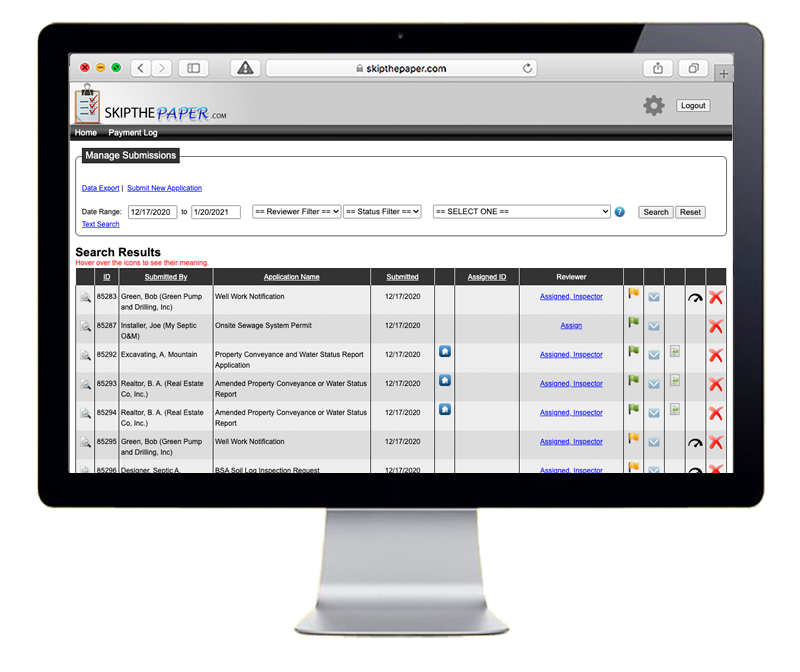 Integrated Workflow
Just because an application has been submitted does not mean that is complete. We have provided a quick and easy way for you to:
Assign work to a reviewer.
Add comments for the Applicant to act on.
Exclude attachments to be included in the final documents.
Add your own attachments to be included in the final documents.
Change the status of an application, automatically notifying all related parties.
Add your own ID to the Application to facilitate Data Integration.
Update Applicant information.
Resend out the customer notification email in case they have lost it.
Fee Collection
OnlineRME services are funded by nominal recording fees that service providers pay for the reports they enter into the system. In addition, regulatory agencies can use OnlineRME to collect their own reporting, contract, or operational permit fees.
These fees can be collected monthly via OnlineRME's automated process or by means of a manually queried report, which shows all activities that have not been billed for. in jurisdictions that use manual billing, OnlineRME still assesses its own report fee, and service providers still pay for it online, using a credit card.
What about our fees?
The following services are provided for free:
Setup of your forms.
Access and use for OnlineRME and SkipThePaper.
Back-up of the data.
Data export reports.
Data system links.
Application Work-Flow tools.
Support.
Ok, so how do we get paid? Easy! Each form submitted has a service or convenience fee associated to it. We recognize that most people prefer the convenience of submitting an application online. It saves them time. It saves them money. Our model works and it allows you to have a quick and professional process when it comes to getting your forms online and receiving the information submitted. Questions? Please contact us.